The janitorial market is constantly changing. Now businesses have a range of choice with a number of products available for each task. Rather than spending more time and money on multiple solutions, it can be beneficial to find a multiuse product that will be affective across a range of tasks.
The Oleonix Full Spectrum Cleaner – as the name implies, can be used for multiple cleaning tasks within your business environment. We have pulled together five ways the product can be used within your business, care home or school.
1. Removing Grease
The full spectrum cleaner is able to achieve great results by using Micriolysis. Dirt and grease sticks to surfaces and remains bonded through surface tension, which makes it difficult for conventional cleaners to remove build up. Micriolysis works to break the surface tension in order to penetrate through the dirt and grease. This makes it great for cleaning build-up of grease on cooker hoods and surfaces within food manufacturing and processing environments.
Victoria Parker, the Marketing Manager at Wightman & Parrish put the product to the test on her own cooker hood.
"It's easy to use and cuts through the grease almost instantly. My cooker hood looks brand new!" she exclaimed.
The cleaner is safe to use within food manufacturing environments as it is in line with registration, evaluation, authorisation and restriction of chemicals (REACH) regulation.
You can see below how Micriolysis works to break up the surface tension to remove dirt.
Figure 1: The Power of "Micriolysis" in action, published online via www.oleonix.co.uk
2. Desk Cleaning Made Easy
The versatility of the Full Spectrum Cleaner means it is a product that can be used on a range of surfaces including stainless steel, plastic, wood, ceramic, rubber and metal to name a few. With this in mind, the cleaner can be used to remove dirt and grime from desks in schools and multiple surfaces in care homes, quickly and easily.
3. Carpets & Flooring
The product can be used in various concentrations dependent on the cleaning activity required.
The concentrated cleaner can be decanted into small trigger sprays for acute use on specific areas such as carpet or upholstery stains. Alternatively, it can be measured into a bucket and diluted as per the instruction for use as a floor cleaner on wood, vinyl, ceramic and safety floors. The cleaner is also suitable for use with carpet cleaning machines.
4. Upholster

ed Furniture
For patient comfort in care homes, furniture is usually upholstered. This in turn means that it can become heavily soiled and unpleasant for staff and patients. The full spectrum cleaner can be used in a trigger spray to directly apply the cleaner on to specific and remotely soiled areas.
5. Presentable Patios and Paths
Oleonix can even be used on patios and paths.
A clean path leading to the door of your business can leave a lasting impression on potential clients, residents, pupils or business partners. The results of the cleaner can be seen in the image below.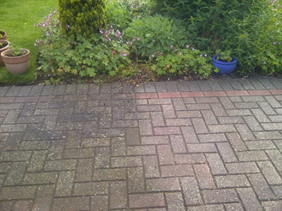 Figure 2: Patio cleaned using Oleonix Full Spectrum Cleaner, Oleonix Ltd Presentation
Why choose Oleonix?
Oleonix have been working to produce a range of non-toxic and environmentally sustainable products that are tough on dirt and grease. By using products that complete the task at hand in the first instance, it increases productivity and reduces the cost of re-cleaning by getting results that should have been delivered on the first attempt.
Studies have shown that the use of Oleonix reduced scrubbing time by 43% and reduced the chemical usage by 30% whilst ISS Contract Cleaning were carrying out hard floor scrubbing tasks. The use of Oleonix within their business delivered a 47% saving compared to using a branded alternative.[i]
To discuss other areas that the Oleonix Full Spectrum Cleaner can be used, or to purchase the product, contact the Wightman & Parrish team today.
T 01323 445 005
[i] Hard Floor Cleaning Comparison, Walkers Snack Foods Bursom Road, Published in 2016