SHOCK, the world's lowest profile cleaning machine, launched at The Cleaning Show in London, and will be available in the UK from June. Designed to tackle the cleaning challenges presented by small spaces, such as washrooms, its low-profile design allows users to quickly and effectively clean around toilets, pedestals, under cubicles and along walls.
SHOCK was invented by Imre Killi and designed by a team of Product Design Engineers at MotorScrubber - the industry leader in powerful small-area cleaning. Following three years of intensive development and testing, SHOCK will transform the way the industry tackles cleaning difficult-to-reach areas, including edges, skirting boards, stairs, walls, toilet cubicles and more.
Enabling teams to clean faster, lower and better, MotorScrubber's patent-pending SHOCK is incredibly customisable. Utilising its quick-connect seismic weight kit, users can choose between increased downforce or enhanced manoeuvrability to take on any cleaning challenge. Its hygienic MAGPlate magnetic pad system makes transitioning between cleaning areas swift and easy. And its soft-rubber glide wheels protect walls and floors during targeted edge cleaning.
MotorScrubber is also launching the revolutionary SHOCK Pad, the latest in cleaning pad innovation. Made up of thousands of micro-blades, each fibre is angled to agitate and gently scrape dirt from textured floors.
The SHOCK Pad has been developed to maximise SHOCK's ground-breaking oscillating technology. Imre Killi, MotorScrubber's CEO and the product's inventor adds,
"When we began testing SHOCK we found that some existing pad materials didn't respond well to the oscillating mechanism. Many round fibres absorb the oscillating movement rather than transferring it to the floor, resulting in poor cleaning performance.
We experimented with angled fibres at varying lengths, and in different cleaning situations. Our aim was to find a reusable and washable fibre which would disrupt and then lift dirt, magnifying SHOCK's oscillating mechanism. The final result was the SHOCK Pad. This non-scratch material cleans all smooth and textured hard floor surfaces, delivering exceptional cleaning results with water alone.
We didn't want to release a revolutionary cleaning machine which used the same pad as everyone else – so we developed our own to clean better and faster."
Imre Killi, adds, "Not only have we created a machine that cleans lower and faster – we've also created a small area floor cleaning solution that considers the user experience.
"Musculoskeletal disorders are the biggest risk factor for professional cleaners. Setting high ergonomic standards, SHOCK is significantly lighter than other machines, features a telescopic handle to remove the need to bend, is powered by MotorScrubber's GEN3 backpack which includes back support, and is easy to use, with isolated vibrations to protect the user."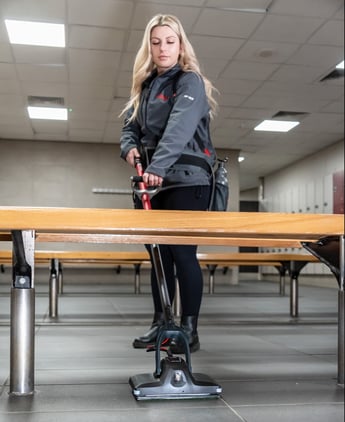 Every part within SHOCK has been considered, tested and refined to within fractions of a millimetre to guarantee a positively shocking clean. It's going to transform the cleaning industry, and we can't wait to see it see in action."
SHOCK Pads will be available in June and will be supplied as standard with all SHOCK floor cleaning machines.
As well as the SHOCK machine, Wightman & Parrish offer several different Motorscrubber machines including:
Jet 3 - Experience unbeatable cleaning results with the ultimate hard floor scrubber, tile and grout scrubber, carpet cleaner, and so much more all packaged in a single machine.



STORM - STORM® delivers a targeted liquid layer of detergent and disinfectant, for effective cleaning and virus control.


BLADE - Designed as a wet and dry mopping system, the flexible squeegee effortlessly dries floors, while the ultra-microfibre mop head eliminates dirt.


If you would like to speak to any of our expert Sales team who can advise on the best Motorscrubber equipment for your businesses, please fill out the form below.