In September 2020 the government announced and additional £500 million of funding to extend the Infection Control Fund to the end of March 2021. This was in addition to the £3.7 billion in emergency funding previously announced to cover the costs of ongoing care for the remainder of the financial year.
In the directive it states "providers of care should utilise additional funding available to implement infection prevention and control measures in accordance with the conditions of the Infection Control Fund and those given by local authorities."
Products such as Duplex Steam Floor Cleaning Machines are an integral part of an effective infection control programme and as such can qualify under the terms of the scheme along with other measures to control the spread of transmission.
In hospital and care home establishments the knowledge that cleaning can be combined with a proven infection control programme is a vitally important factor to be taken into account when considering a cleaning machine purchase and never more important than in these difficult times of Covid 19.
The Duplex range of cleaning equipment includes the Duplex Steam models with their unique ability to clean and sanitise all types of floor surfaces including carpets, Altro, vinyl, ceramic tiles, profiled rubber and wood with the power of steam.
To demonstrate the efficacy of the products from the Duplex range most used in the healthcare sector, Duplex commissioned independent tests by the Hospital Infection Research Laboratory, Birmingham which proved exceptional kill rates of bacteria found in the hospital environment.
As can be seen from the Log 10 reductions shown in the charts below our equipment demonstrated exceptional kill rates, especially when compared to traditional mopping methods used as a benchmark. Quite simply results achieved by cleaning mechanically are superior to mopping alone and by cleaning mechanically with steam, significantly so.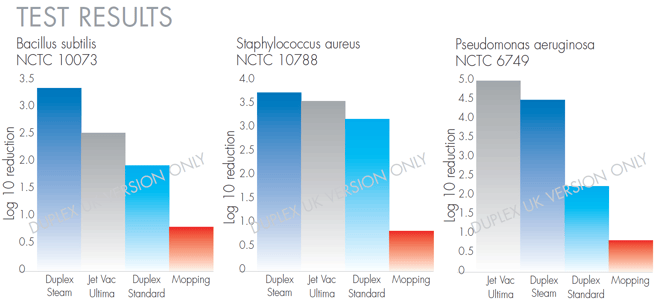 On carpets steam is excellent for refreshing and revitalising fibres and removing stains and odours. This is particularly important in the care environment where incontinence can be an issue and by killing the bacteria in the carpet fibres, odours are thereby removed leaving rooms smelling fresh and clean for the benefit of residents, staff and visitors. An additional benefit of having such a thorough clean is that carpet life is prolonged meaning less financial outlay on replacing floor-coverings.
On hard floors, particularly profiled and safety flooring, the Duplex leaves surfaces dry in seconds and is approved by well-known manufacturer of slip-resistant safety flooring, Altro. This is particularly important to safe-guard elderly care-home residents who may be liable to slips, trips and falls.
Steam is also highly effective at cleaning and sanitising a wide variety of hard surfaces. Tiles, sinks, toilets, grouting, walls and kitchen surfaces can be tackled with the cleaning and sanitising power of steam and without the need for expensive and potentially harmful chemicals. A range of specialist tools are available including a particularly useful little accessory which when placed over a sink plughole, blasts a high-pressure jet of steam through the trap removing any build-up of grease, fat, grime and bacteria.
Free, on-site, no obligation demonstrations on a nationwide basis are available so that potential clients can see for themselves in their own environments the exceptional results Duplex machines can achieve. Each machine is installed upon purchase and a certificated training session provided so that operators can learn how to use the equipment safely and effectively.
For more information on the range of Duplex machines we offer, call 01323 445005 or email sales@w-p.co.uk